The Tips You Need Before Investing In Your First Designer Bag
There comes a time in any fashion loving girl or guys life when they will finally bite the bullet, close their eyes whilst they swipe their credit card and purchase their first designer bag. This bag will be worth a few pay checks and sum up to a lot of Sunday brunches BUT there is that little voice inside of you who desperately wants it and knows damn well that you deserve to 'treat yo self.' 
Here at X NIHILO, we understand that you would have a lot of questions and thoughts when considering this pretty massive purchase so we thought we would help you out by giving you some of our top tips before purchasing any investment bag.
THE INITIAL GUILT
It is totally normal to feel a bit guilty or unsure about purchasing such an expensive bag, as we all know there are more important things the money could go to like food, bills, rent, a new wardrobe, life etc BUT if you have done your research, observed the styles you like and your gut feeling is still telling you to go through with it, then you should be pretty confident that you are making the right decision for you. Plus, if you really couldn't afford the bag you would not even be thinking about it #FACT.       
THE STYLE
Always focus on how you want to use your bag and what kind of compartment you will need. Pick styles that will take you from day to night, and offer ways for you to change it up to suit your needs. The last thing you want to do is to create a whole new wardrobe based on a single purchase. By making your style fit around the bag you are at risk of losing your fashion identity; your wardrobe says a lot about you; embrace it.
"A bag is all about function it has to work for you; you should not work for your bag" 

 
THE MATERIAL
Looking into what type of materials you want to wear is extremely important. Because leather is a natural animal product, it is highly recommended to research on the Corporate Social Responsibility (CSR) of the company. Recently X NIHILO has been approved by PETA (People for the Ethical Treatment of Animals) as fur and angora free retailers. We are also continuing in communication with related organisations, for guidance and knowledge on how we can do better and ticking the ethical boxes as X NIHILO continues to grow as a brand.
THE BRAND
Choosing what luxury brand you want to own is usually one of the first aspects of your purchase you will decide on. It is important to focus on what you want, the only thing that should matter is how you perceive the brand and what it means to you. Different people will have different brands they like and also feel to be an investment piece, so as much as you will want to listen to others, do not feel you need to sway your own likes because of them! They won't be wearing the bag you will be!                
At X NIHILO we distance ourselves and our products to focus on the brand name and logo because we want our women to wear their own name not anyone else's'. This approach has helped us create a deep bond with our customers and our brand message. 
THE INVESTMENT
When you a purchase a bag that uses high-quality leather, it should always be considered an investment. Why? Because everyone needs a bag and you will always use one whether you are 15 or 85 years old. The better quality the leather, the greater chance it will last, meaning you will be able to see yourself 30 years down the track still being able to wear it with confidence. A good bag very rarely goes out of fashion, especially designer. As it ages it becomes vintage rather than dated and we have never seen a designer bag lose its impact when worn, no matter how old it is. Once again, the key is to choose the right bag that will last and function specifically for you
THE COLOUR
Choosing the colour is often the most stressful part. Do you choose the trending colour at the time or do you keep it safe with a plain colour that you may find too simple for the price you paid for? As said in the beginning these choices are all up to what you like and where you seeing yourself wearing the bad. Black is always going to be a great choice and we promise you won't be disappointed BUT if you want it to be a bit more exciting try looking at black bags with different textures and materials so it breaks up the colour.
If you want to stray away from standard black but not restrict yourself on how you can wear the bag,  neutral colours like tan and nude are also great options as it will go with bright colours as well as your basic black and whites. The team at HQ absolutely adore pairing tan leathers with double denim.
THE CONNECTION
Finally, the very last and most important step you should take before pulling out the credit card is to consider how the bag makes you feel and how you will feel wearing that out of the store. When we discussed how our first investment bag made us feel all of us at HQ admitted that it was love at first sight. We had all tried on a lot of other bags but as soon as we saw the one we all knew it was the bag for us. The bag should make you feel confident, proud and suit your personality.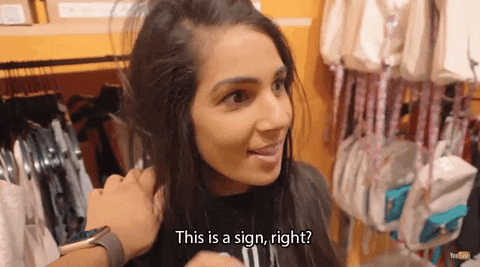 If you have considered all these tips and are still dreaming about that bag, then damn gina go buy that bag, you very well deserve it! 
Leave a comment